Description
Installation and Administration
Installation and Administration
2 Days
Basic training is intended for IT professionals who want to learn how to use and run KVM virtual machines, Linux containers or Proxmox Firewall in a configuration of only one node in its network.
Advanced
2 Days
This practical training course is intended for IT professionals who want to administer a Proxmox VE cluster, understand the high availability, use the live migration and different storage solutions (for example, Ceph and ZFS).
Bundle
4 Days
Get the best value for money with the complete pack of training courses: you will learn the basics of server virtualization, as well as advanced topics such as clustering, high availability and distributed storage, in just a few days.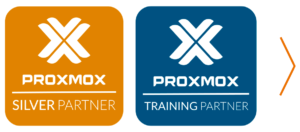 We are official distributors and teachers of Proxmox VE. The first certified company as teachers of Proxmox VE in Spanish.
"*" indicates required fields